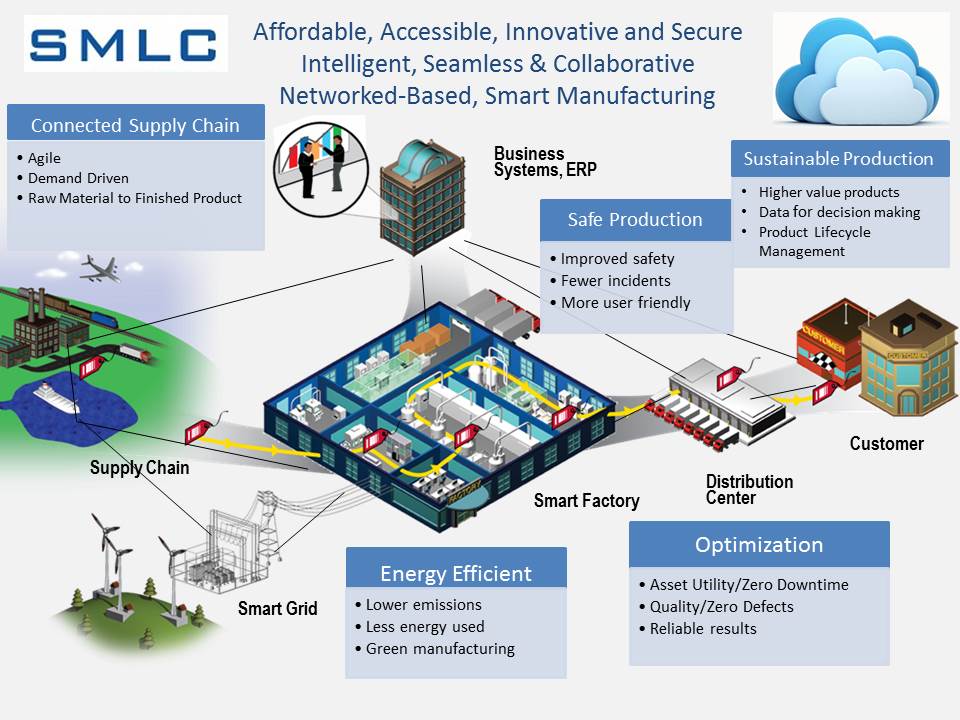 SMLC is widely recognized for its commitment to the transformative potential of Smart Manufacturing and substantially lowering the barriers to extensive deployment of Smart Manufacturing (SM) systems. The Smart Manufacturing Platform (SM Platform) offers robust, industry-driven networked based infrastructure optimized for an advanced, comprehensive design and manufacturing systems engineering approach. SMLC has identified Smart Manufacturing as the dynamic orchestration of manufacturing steps across different time constants and operational seams, including the entire value chain, without losing state of control.
The SM Platform is a shared, open-architecture cyber infrastructure that integrates the basic components used by manufacturers to assemble customized decision orchestration and management systems that integrate in real-time with the enterprise physical systems. "Workflow as a Service" (WfaaS) is foundational in orchestrating dynamic, adaptive, actionable decision-making through the contextualization and understanding of data, state and time across the physical enterprise "compartments" and throughout the design and manufacturing process. The infrastructure nature of the SM Platform has opened other "smart" integration opportunities such has interfacing Smart Manufacturing with the Smart Energy Grid and infrastructure for Smart Buildings.
The SMLC strategy is constituted in test beds. A full range of new and untapped test bed opportunities have been identified based on industry definitions: adaptable machines using benchmarking; information and innovation in an integrated supply chain; integrated dynamic energy management across multiple units; tracking and traceability; pin-point product recalls; expanded innovation base; rapid in-production product qualification; new technology insertion; agility with product transitions; simultaneous product and manufacture planning; one-to-many unit individual compartmentalized; and operational management of tradeoffs and risks.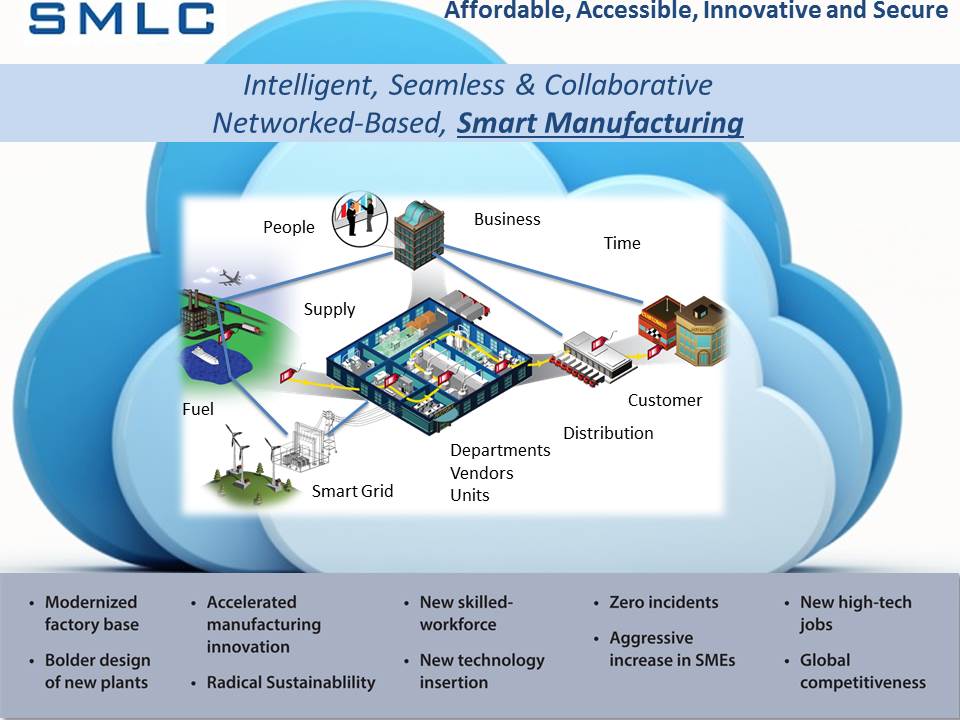 Active test bed building and/or analysis include:
Oil and Gas – Real-time application of high fidelity modeling to dynamically manage temperature in industrial furnaces to tighter risk tolerances
Metal Parts Manufacture – Integrated energy and production performance improvement through dynamic management of furnaces, machining and maintenance across the entire line operation
Food Industry – Lot size management, tracking and traceability and predictive data from farm suppliers
Pharmaceutical – In-production, real-time qualification of product
Small Polymer Manufacturers – Access to real-time monitoring and operational management systems
Metals Industry – Enterprise, dynamic, sensor-based performance management of energy, facilities, production and environment
Automotive Industry – Flexible organization and orchestration of model-based design to include integrated programmatic, risk, supply chain, environment and other market features
Apps-for-Manufacturing Marketplace – Apps are 'WfaaS-ready' for application; workflow protocol facilitates broad base of App development innovation
Smart Grid – Electronic exchange, dynamic transaction and power quality management with energy grid providers 10. Smart Buildings – Infrastructure for sensor-based, dynamic Smart Building energy management
Team Members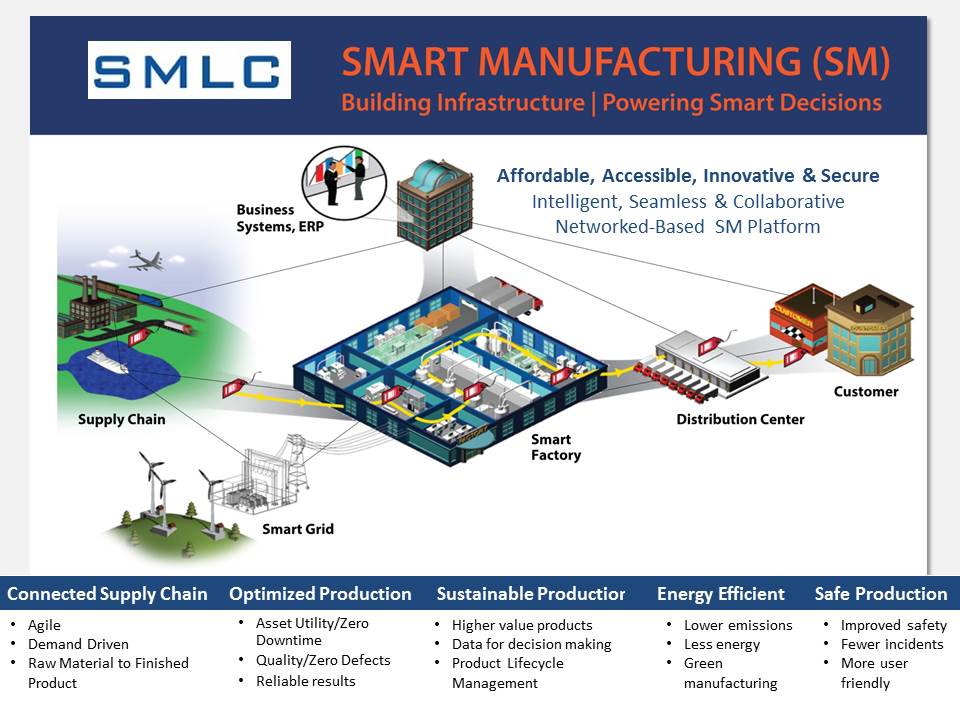 Partners/Membership List:
American Council for an Energy-Efficient Economy (ACEEE)
Alcoa
American Institute of Chemical Engineers
American Society of Quality (ASQ)
Association of State Energy Research & Technology Transfer Institutions (ASERTTI)
Association for Manufacturing Technology (AMT)
ARC
CalTech – Jet Propulsion Laboratory
Carnegie Mellon University
Corning
DOE
Emerson
Electric Power Research Institute (EPRI)
General Dynamics
General Electric
General Mills
General Motors
Manufacturing Enterprise Solutions Association (MESA)
MTConnect Institute
National Association of State Energy Officials (NASEO)

Nimbis Services, Inc.

North Carolina State University (NCSU)
NETL/ DOE
NIST
NSF
OSISoft
Owens Corning
Pfizer Inc.
Praxair
Purdue University
Rockwell Automation
Rensselaer Polytechnic Institute (RPI)
Savigent Software
Schneider Electric
Society of Manufacturing Engineers (SME)
Southwest Research Institute (SWRI)
Spitzer and Boyes LLC
Sustainable Solutions
Tulane –  Center for Polymer Reaction Monitoring and Characterization
UCLA
University of Texas – Austin