Smart Home/Business Gateway Platform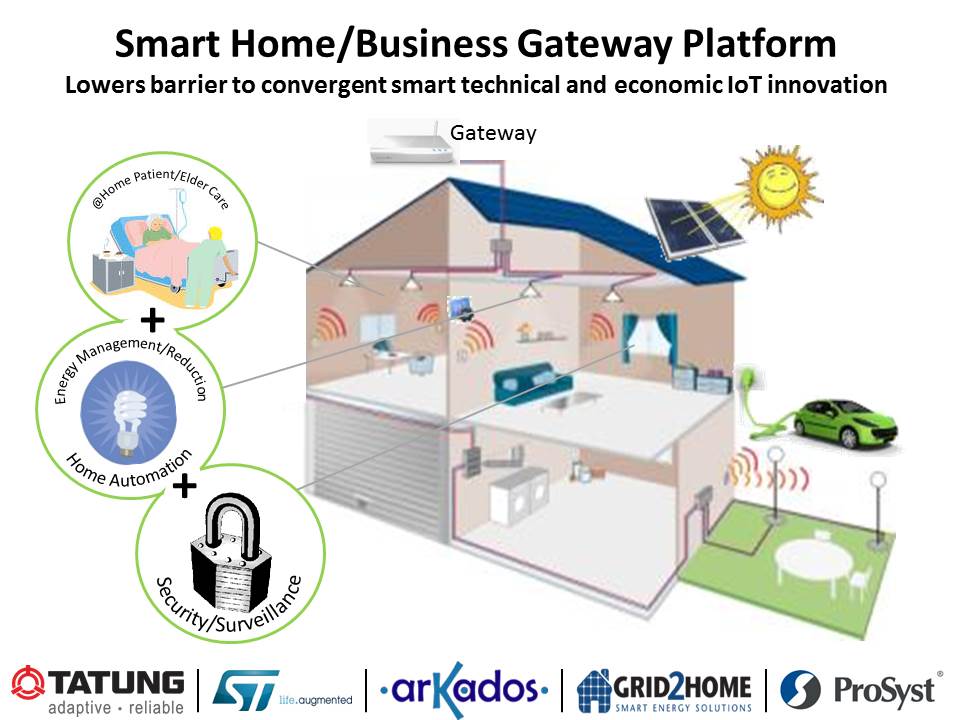 Description:
Traditionally, cyber-physical systems designed for home and building automation, energy management, surveillance, e-Health, and electric-vehicle charging have been self-contained and unable to interacted with other systems. The Smart-Home Platform we are showcasing has been heavily focused on integrating these domain-specific cyber-physical systems into one platform that is capable of interacting with multiple application-specific cloud services. The platform also leverages the latest in user interface technology to offer a unified multi-screen (smart phone, tablet, TV, computer) user experience which also includes cloud service and analytics providers, home automation and energy-management sensor manufacturers, medical-device manufacturers, industrial-equipment manufacturers, and automakers.
The test bed we are proposing within SmartAmerica Challenge allows rapid research and development and product and application development with the goal of reducing time-to-market and increasing the potential for job creation. The benefits stemming from a wide deployment of such systems will manifest as:
Increased energy efficiency by optimizing and balancing the storage and use of electricity;
Preventing disease by increasing access to medical care and health monitoring;
Creating new business opportunities via additional services that result from the creation of new networks of nodes and vast quantities of data available to be analyzed; and perhaps most importantly;
Building new revenue streams and new jobs.
Contact list:
Tatung: Alan Pan alan.pan@tatung.com
Arkados: Terrence DeFranco tmdefranco@arkadosgroup.com
ProSyst: Daniel Schellhoss d.schellhoss@prosyst.com
Grid2Home: Mike Bourton mbourton@grid2home.com
ST: James D ALLEN james.allen@st.com
ST: Michael MARKOWITZ  michael.markowitz@st.com 
ST: Francesco DODDO francesco.doddo@st.com
ST: Elaine GONZALEZ elaine.gonzalez@st.com
ST: Oleg LOGVINOV oleg.logvinov@st.com