Event Management for Smart Cities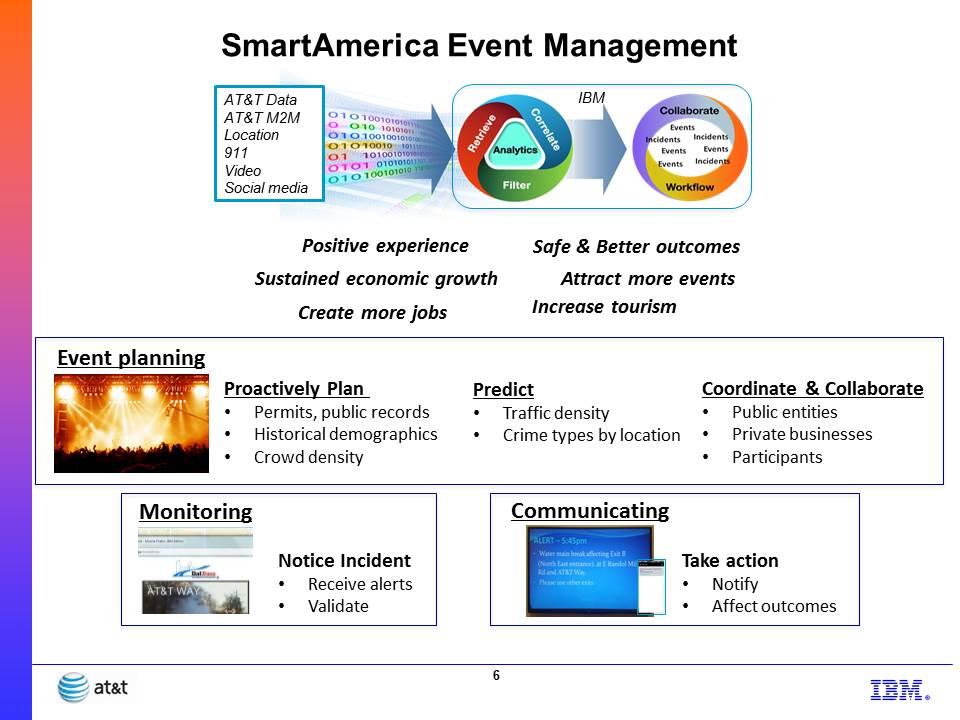 Large scale event planning and operations require significant amounts of collaboration among a variety private and public sector organizations. Whether the focus is a concert, a sporting event, a parade, or any of a wealth of examples that would involve significant preparation and execution oversight as well as multitudes of participating constituents, events represent a great opportunity for cities to showcase themselves as an ideal destination for event organizers, businesses and visitors, and a significant revenue generation.
Event Management for Smarter Cities is a joint solution of IBM and AT&T that leverages Internet of Things (IoT) technologies and IBM Smarter Cities Software as a Service (SaaS) to play a significant role across the event lifecycle, from planning to execution to review and analysis. The solution uses AT&T data, external & Open data sources and cross-agency information to provide effective Planning and Management of special events, in a visual way using only an Web browser and data. By improving collaboration across a wide set of stakeholders, and improving incident response, cities and other public organizations can ensure safe and profitable public events.
Team Members

Phil Fritz, IBM
Ed Davalos, AT&T
Mobeen Khan – AT&T
Ed Davalos – AT&T
Christopher Frosk – AT&T
John Krachenfels – AT&T
John M Cohn – IBM
Michael Moomaw – IBM
Sharon Johnson – IBM
Michael Alexander – IBM
Angela Russell – IBM
Alan Emery – IBM
Pamela Lee – IBM