Connecting Smart Systems to Optimize Emergency Neurological Life Support
Overview and goal of the project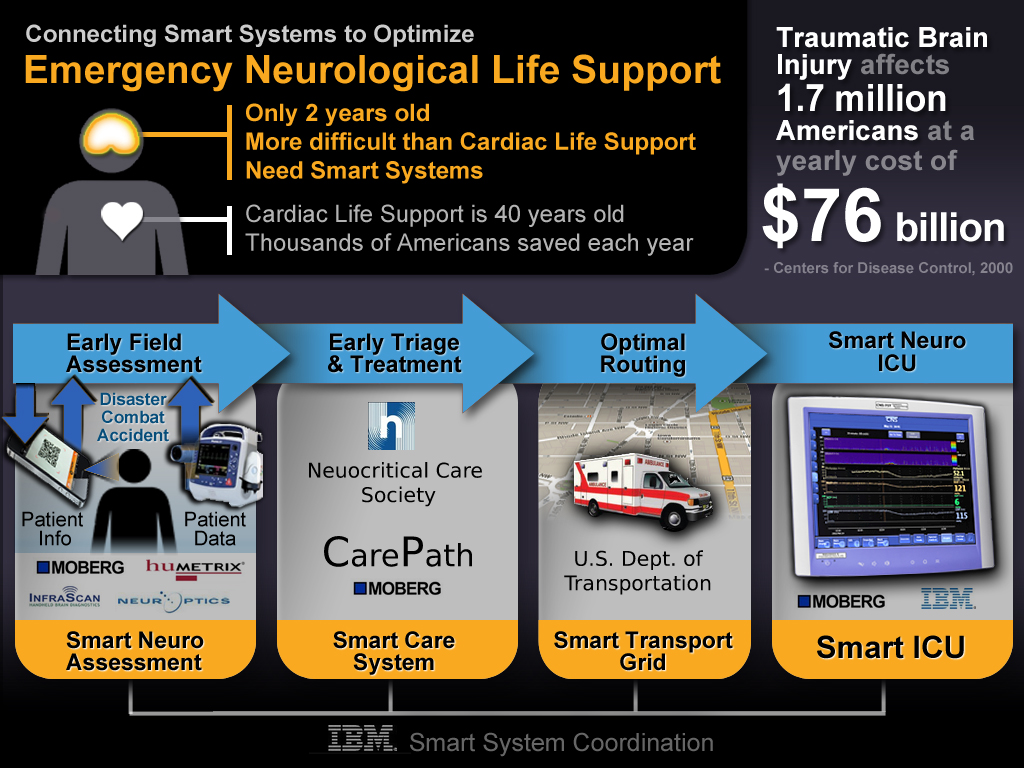 Brain injuries can result from accidents, disasters, terrorism, and natural causes. Brain injuries are now seen as the most complicated of medical problems and optimizing care in the first hours and days can make a significant difference in patient outcome and costs to health care.
The goal of the project is to demonstrate how creating and/or connecting to Smart Systems (connected "things") can optimize the care of brain injured person by providing early diagnosis, early treatments, context aware patient routing, and advanced individualized patient management.  These systems include emergency systems, transportation grids, healthcare information systems, smart hospitals, medical device networks, and smart ICUs.
The project will set up a "laboratory" in the San Francisco Bay Area to test concepts in emergency neurological care, precision medicine, patient safety, workflow, cost reduction, decision support, high resolution medical records, and connected information infrastructures.  A key component of this project is the creation of a Smart Neuro ICU at a local trauma center that is optimized for informatics applications.  Smaller efforts around the country will test more targeted concepts.
The project will also leverage the work of related SmartAmerica projects namely:  Closed Loop Healthcare, Safe Community Alert Network, Smart Emergency Response Systems, Smart Phone Disaster Mode, South East Michigan Smart Transportation,
Emergency Neurological Life Support (ENLS) is a new discipline in critical care medicine that starts the appropriate treatment early for these victims.  ENLS, coupled to concepts of Precision Medicine in the ICU, can help optimize the management in this very complex condition and likely improve outcomes.
Socio-economic benefits of the project
The project should have a direct impact on brain injury. There are approximately 130,000 deaths each year from stroke and 50,000 deaths each year from traumatic brain injury. Early treatment could reduce these numbers. The cost to the US for head injured patients is approximately $76 billion per year (Centers for Disease Control, 2010). The most costly are those who remain alive but have poor outcomes. Improving the outcomes with more effective ENLS should significantly reduce this cost. A Smart Hospital and ICU will increase jobs in medical informatics, data analytics, and related areas. The Smart Neuro ICU will also have an impact on other important areas of healthcare such as patient safety and cost reduction.
Coordination
Emergency Neurological Care
Humetrix
Neuroptics
Infrascan
Philips
Banyan Biomarkers
Analytics and Informatics
Smart City
Dept. of Transportation (Walt Fehr)
IBM – TheSmarterCity
Neuroscience Nursing
Tracey Berlin MSN, RN, CCRN, CNRN
Patient Safety
UCSF School of Nursing (Dr. Xiao Hu)
 Clinical Sites
San Francisco General Hospital
Columbia University
UCLA
Yale
University Hospital Zurich
Data Integration and Standards
International Neuroinformatics Coordinating Facility – Stockholm
Center for Medical Interoperability
MDPnP
NIST